---
SPECIAL BREVI BUNDLE! WILL NOT BE AVAILABLE AFTER TODAY!
BREVI™ Nordic-Inspired Premium Nano Toothbrush
With over 12,000 ultra-fine bristles that are only 80 microns in diameter, you can deeply clean every corner of your teeth, covering more surfaces. Remove food residue, plaque, and stains without irritating or damaging your teeth or gums.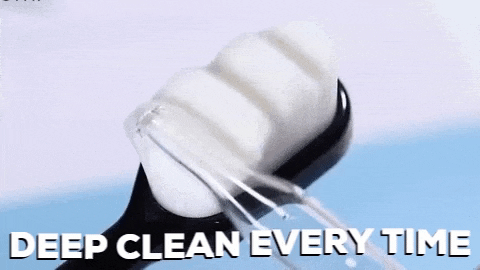 KEY BENEFITS:
PENETRATE EACH ENAMEL CREVICES - BREVI Toothbrush is unlike any ordinary toothbrush. Each nano-fiber bristle penetrates the enamel crevice to remove food residue, bacteria plaque, and stains, without missing the blind areas of the tooth gap, picking out and removing harmful substances with its delicate craftsmanship.
NO DAMAGE TO YOUR TEETH OR GUMS - BREVI Toothbrush is specially designed for hypersensitivity. Our super-soft 12,000 bristle toothbrush gently polishes the surface of the teeth without tearing up the gums. Perfect for people suffering from sensitive teeth and bleeding gums. A lifesaver for babies, children, moms, the elderly, people with braces, and even dogs!
LIGHTWEIGHT AND ERGONOMIC DESIGN - BREVI Toothbrush is specially designed for ease-of-use. The brush head is fine-tuned for maximum comfortability. The comfortable handle design better adapts to the fingers to prevent excessive force, giving users peace of mind when brushing their teeth.
HIGH-END SAFE MATERIALS - Made of sterile fiber bristles with anti-bacterial properties, BREVI Toothbrush is made to last. A very light ABS handle ensures a durable and efficient toothbrushing experience.
BREVI™ Activated Charcoal Tooth Polish
Pitch black powder to whiten your teeth?! Sounds crazy, but it works. Our 100% organic Activated Charcoal Tooth Polish effectively whitens teeth by adsorbing stain-causing debris and bacteria. It removes stains without toxic chemicals, promoting good oral health and preventing bad breath.
Our polish is made with 100% organic coconut shell-activated charcoal with a hint of bentonite powder and lemon myrtle.
KEY BENEFITS:
Whitens Teeth

Removes Stains

Naturally Detoxifies

Freshens Breath
HOW TO USE:
Dip wet toothbrush into jar, tap off excess

Brush your teeth for 3 minutes

Spit out and rinse
If this is your first time using our tooth polish, we suggest that you start with 14 days straight at night for the best results. Then we recommend using it 2 -3 times a week to maintain the results.
WHY BUY FROM US:
FREE Worldwide Express® Shipping

24/7 Dedicated Customer Service

Premium Quality Guaranteed (30 Days Money Back)

Not available on Amazon or in stores!

We guarantee that you will absolutely love it!
BUY WITH CONFIDENCE:
We understand that online shopping can be daunting, and that's fair. We put it upon ourselves to create a special customer experience, from order to shipment to delivery. We offer 24-hour customer support to answer any and all questions. If you have any concerns about shipping or store policy, please visit our Store Policy page to get more details.
We look forward to welcoming you to the BREVI Family.
We are proud to offer Free Worldwide Shipping on all orders.
Due to recent COVID restrictions at our warehouse, orders can take up to 2 weeks to be processed and dispatched. When your order has been shipped, we will provide tracking details to you.

Orders should take between 2-4 weeks to arrive after being shipped (when you receive your shipping confirmation email).
If your order does not arrive in 2 weeks after being shipped, please email us at hello@brevibrush.com with your order #, so we can further assist you. Thanks.
*We do not ship orders on weekends
**Shipping timelines and cutoffs are based on shipping estimates provided by DHL, FEDEX, USPS, and any other carriers we may use. Please note that we cannot control or be liable for any delays nor guarantee any delivery dates due to circumstances beyond our control (i.e. weather-related, acts of God, natural disasters, or other Carrier related delays).
If you need to make any amendments or cancellations, please contact us within 24 hours of placing the order.
Orders can not be cancelled after 24 hours has passed, as we'll have most likely shipped it out of our warehouse already.
If you need to make any amendments, please contact us within 24 hours of placing the order as soon as possible after placing the order.
If your parcel has already been shipped out to the wrong address, we will have to charge you a shipping fee to resend your parcel to you again.
To return your product, please email us hello@brevibrush.com for further instructions.